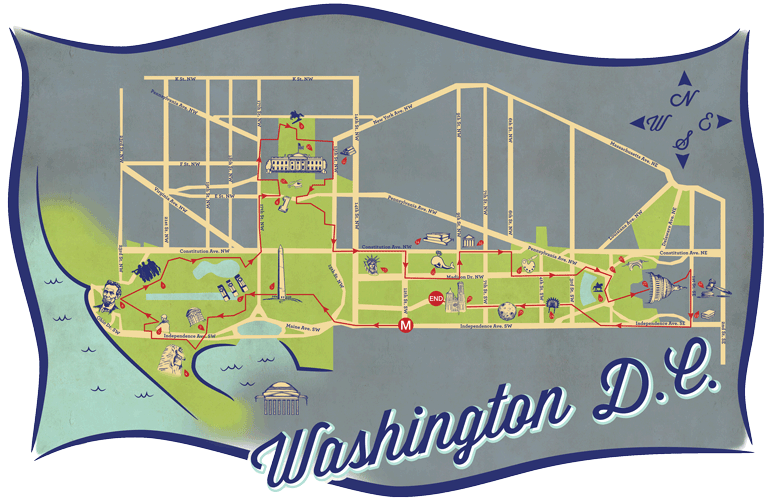 Hike Reviews
Length – 6.5 miles
Estimated Time – 8-10 hours (with museum visits)
Difficulty – Easy no elevation changes
Start point – Washington Monument
Download This Hike
Hike Overview
This hike is planned as a 7.5 mile hike, covering the primary Washington DC destinations. Rather than suggest museums for you to visit, it is recommended that you select the ones that interest your group the most. The museums that most youth groups frequent are: the National Air and Space Museum, the National Museum of Natural History and the National Museum of American History. If this is your first time in D.C., you may wish to consider taking two or even three days to make the hike. If you want to walk The Mall, then this hike will include some challenges to make it more interesting. This hike will take you to destinations like the White House and the Capitol Building (sometimes these are closed to visitors; so, it can be hit or miss). The hike concludes with the highlight – The Smithsonian Castle.
About Washington D.C.
Positioned downtown in the heart of the nation's capital, Washington D.C., the National Mall is an open-area national park that includes all of the most prominent D.C. destinations. This symbolic setting features monumental historical structures, museums and galleries, honors the most distinguished public figures of our time and offers beautiful open areas for the recreational enjoyment of visitors. In addition to its many great attractions, the D.C. Mall plays host to a large array of free annual events and receives millions of visitors each year.
Souvenir Patch
To commemorate your trip and order this patch, click here!