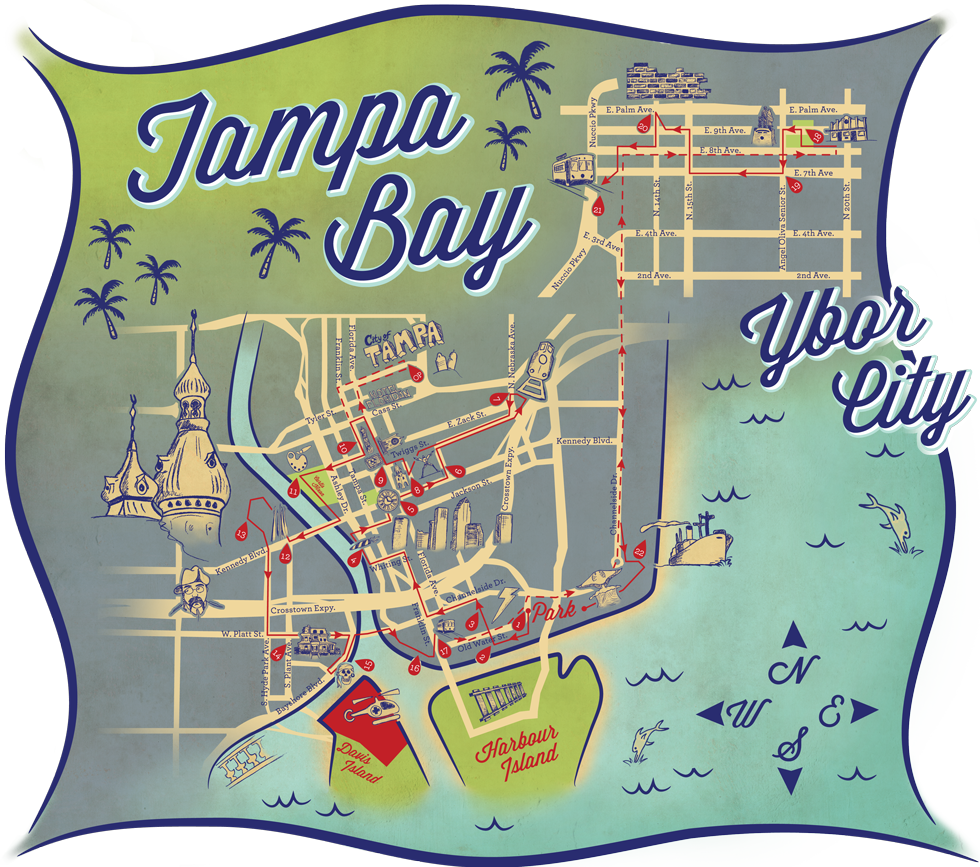 Hike Reviews
Length – 5.2 miles
Estimated time – 6-7 hours
Difficulty – Easy, no elevation changes
Start point – Tampa Bay History Center Museum
Download This Hike
Hike Overview
The hike is planned as a five mile hike through the historic city of Tampa. This hike will cover much of the history of Tampa from its native inhabitants before the spanish arrived, through the era of the immigrants and into modern times. The experience begins with a walk through the Tampa history museum. You will then walk through modern downtown skyscrapers and buildings from over 100 years ago. The hike will visit the Historic Tampa Hotel, now the University of Tampa. Follow Bayshore to the Gasparilla pirate ship. The tampa streetcar will take you to historic Ybor. Walk down 7th Avenue through the history of Tampa's immigrant neighborhoods. Learn about the history of the Rough Riders. Return to the streetcar to visit the hike's highlight – the SS American Victory!
About Tampa
Tampa, is a large metropolitan city located on the west coast of Florida, on Tampa Bay, near the Gulf of Mexico. Rich in history and natural beauty, this city is well known for its diverse immigrant populations and the cultural influences they have contributed. A local attraction not familiar to many visitors, is the SS American Victory, which was built in 1945 and was used in WWII and the Korean War. Docked right behind the Florida Aquarium, it is only one of three fully-functioning ships in the country and also serves as a mariners museum.
Souvenir Patch
To commemorate your trip and order this patch, click here!